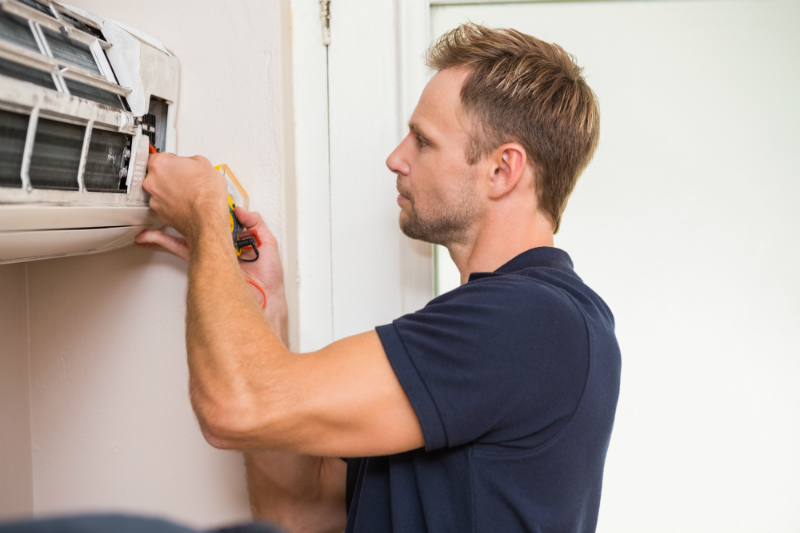 You should always have your air conditioner serviced if something seems to be going wrong with it. However, even if you are not experiencing problems, AC maintenance should be done about once a year. This includes cleaning, servicing, and inspection for any issues. Many professionals suggest doing this in the spring, early enough to make sure it can cool your house correctly when it is a bit warmer.
Why Do I Need Maintenance?
When your air conditioner runs, it picks up bits of dirt and dust in areas that affect efficiency, such as the air filters and condensing coils. If you forgo AC maintenance, you can lose up to 5% of efficiency every year, which also means that your air conditioner will not be cooling as well as it would be if it had been serviced.
Should I Just Buy a New Air Conditioner?
This is a bad idea, if only because it is much more expensive than hiring someone to check on your current air conditioner. When you replace the air conditioner, you are likely looking at spending many thousands of dollars. Small repairs can be costly, as well, but are a much better value than throwing out the entire system.
Do I Really Need an Inspection?
Absolutely! Inspections end up paying for themselves in the sense that you will have increased efficiency, which leads to savings on your utility bill. It also keeps your air conditioner in better condition than it would be without maintenance. A technician who is skilled and trained can find small problems before they turn bigger and require costly repairs.
What Happens During an Inspection?
When a technician visits to carry out an inspection, you can expect that they will check all the major parts of your HVAC unit. This will include the motor, drain line, blower, coils, return and supply lines, operating temperatures and pressures, refrigerant levels, and connections.
What Company Should I Choose?
When you are looking for a company, it is essential to determine if the technicians are licensed as contractors. You should also ensure that the company has liability insurance and workers' compensation if an accident happens while working at your home.
Pick Air McCall
At Air McCall, you can expect fair pricing, excellent craftsmanship, honesty, and integrity. We offer replacement air conditioner installation, along with repairs and maintenance services. If you live in or near Jacksonville FL and need HVAC maintenance, give us a call at 904-288-6110.